Hotel Mercure Delfino
Viale Virgilio 66, 74100 Taranto, Italy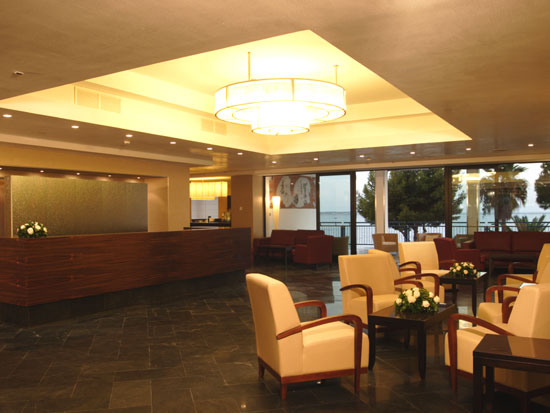 The venue for VECIMS and CIMSA 2010 conferences will be the Hotel Mercure Delfino, Taranto, Italy.

The Hotel Mercure Delfino is the largest four-star hotel in Taranto located by the seaside and the civic centre, at just 2 kilometers from the train station and few kilometers far from the charming beaches of the Ionian Sea and from the motorway. The hotel's 200 guestrooms as well as the suites are elegantly furnished, air conditioned and acoustically insulated to offer greatest comfort and peace. The hotel offers to its guests a suggestive refined and elegant terrace, facing the beautiful landscape of the gulf of Taranto. The stylish terrace, ideal to enjoy the landscape during the summer period, is placed next to the broad lovely restaurant endowed with conditioned air and every comfort.
Facilities:
Restaurant; bar; lounge; outdoor pool; fitness center; car-rental desk; room service; babysitting; laundry service; dry cleaning; nonsmoking rooms; rooms for those w/limited mobility.
The organizers have reserved the accommodation at a special conference price negotiating with the hotel a discounted package including the transportation from/to the hotel and the nearest airport (Brindisi - 63Km) and a 24-hour WiFi service.
NEW! The shuttle service from/to the Bari Palese Airport (115 Km) is now available with an
additional fee of €30 per person.

Reservation of the special conference package can be realized only using:
The discounted package requires a minimum of two nights' lodging:
B/B Single room € 200.00 (Cost per 2 nights)
B/B Double room € 160.00 (Cost per person per 2 nights)
If extra nights are required, we can help you find the hotel room at an exceptional daily rate:
B/B Single room € 70.00 (Cost per person, per day)
B/B Double room € 50.00 (Cost per person, per day)
If you choose to book and pay independently your room, we cannot guarantee you will receive the discounted package rate considering that only transportation from/to the nearest Airport (Brindisi), distanced approximately 63 km, costs about € 50.00 /60.00.
Please note: The pick-up service will take the conference attendees directly from the airport to the hotel and will be organized for group only in relation to the status of departures and arrivals from/ to Brindisi Airport and Bari Airport.
For this reason it is advisable to arrange this service through an agreement directly with the organizers contacting them via e-mail.
Since this hotel has been chosen for its strategic position ensuring a wide range of services and attractions it would be particularly appreciated if participants could stay in the same hotel so that organizers can easily arrange sightseeing tours, excursions around the city, special events and more.
We wish you a pleasant stay in Taranto. We hope you will enjoy this opportunity to exchange ideas and participate fully in the Conference activities.
We look forward to an enjoyable and productive conference.
Transportation
Taranto is a easily reachable town with all means of transport. HOW TO GET THERE:
By car
Motorway A14 Bologna-Taranto (barriera di Massafra) from and to Northern Italy;
S.S. 106 Ionica from and to Calabria;
S.S. 100 from and to Bari;
S.S. 7 Appia from and to Brindisi;
S.S. 172 from and to Martina Franca and Valle d'Itria.
By plane
The nearest airports are Bari-Palese and Brindisi-Casale.
See: http://www.aeroportidipuglia.it

For those people arriving at Bari Airport it is really easy to reach Taranto thanks to direct transfers
by bus to Taranto Train Station.
For purchasing the ticket in advance please follow the instructions of this website
http://pugliairbus.aeroportidipuglia.it/
By train
Taranto main railway station has services to/from national and regional destinations.
See: www.trenitalia.com
By coach
There are several coaches available during the day from/to Taranto.
See : http://www.eurolines.it/, http://www.marinobus.it/news.htm or http://www.marozzivt.it/